"CRUISIN' ON THE AVE"
FATHERS DAY CAR SHOW 2017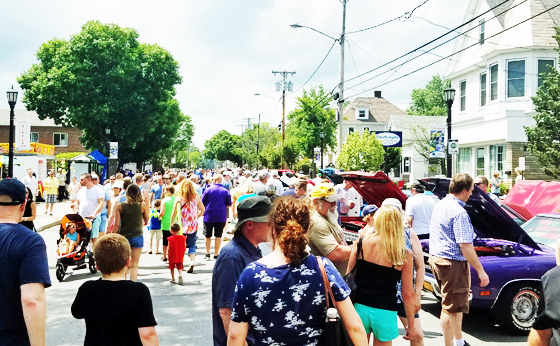 For a week the weather guessers said showers and scattered thunderstorms
for our 19th annual 'Cruisin' on the Avenue' Car Show.
AND THEY WERE WRONG !
Under partially sunny skies we had over 160 entries that included cars, motorcycles, rat rods, tuners, and trucks from the 1920s and newer. Trophy plaques were presented to the favorite two in each category, plus two special awards, the Mayors Choice for his favorite vehicle of the show and the Participants Choice, voted on by those registered in the show.

Congratulations to all the winners!
Mayor's Choice

Jim Jones

1969 Chevy Chevelle

Participant's Choice
Raynond A Hyam, jr
1974 Chevrolet Monte Carlo

50's and Older

Beth and Tom Keehan
1930 Ford Tudor
George and Pat Riley
1957 Hillman Husky

60's

Terry Plante
1966 Chevy Chevelle
Tom Siatkowski
1969 Mercury Cougar

70's

Ray Haines
1974 TVR 2500M
Ken Just
1977 Chevy Monte Carlo

80's

Andrew Smith
1989 Nissan 300ZX

Kurt McKeone

1981 Chevy Camaro

90's

Wesley Staroza
1997 Viper
Richard Sindoni
1991 Pontiac Formula 350

2000's

Jim Gemmett
2005 Chevy Corvette
John Eaton
2001 Porsche Boxter

2010 and Newer

Derek Forkel
2013 Chevy Camaro
Charles Folensbee
2015 Hellcat

Motorcycles

Paul Morrett
2006 Buell
Evan Chamberlaine
2004 Harley

Trucks

Dan Grzybowski
1951 Chevy
Bob Vainauskas
1941 Ford
Rat Rods
Custom Bob Niemietz
1941 Dodge
George Francisco
1929 Ford
Tuners
Mateo Morizio
2003 Subaru
Devin Stark
2014 VW

If you were unable to pick up your trophy at the show, please contact John at 831-1700
THANKS TO EVERYONE WHO PARTICIPATED!
Copyright 2017 Cruisinontheave.com
Last Modified June 19, 2017
Web Design and Hosting by John Pytlovany